Focus32 Care Plan
MANAGE YOUR YEARLY DENTAL CARE ROUTINE WITH OUR EXCLUSIVE FOCUS 32 CARE PLAN
At Focus 32 we realise that not everyone in Hamilton has the means to visit the dentist regularly, so our exclusive plan allows you to spread the cost for just $30/month*. We also realise that having your teeth regularly checked means that there is a better chance of picking up problems at an early stage – preventing larger costs later on and helping you create and keep your healthy smile.
It really is very simple, sign on to our dental plan, and for $30 a month you can receive access to:
2 comprehensive check – ups per year (six monthly)
2 scale and polish per year (six monthly)
2 x-ray's per year
Flouride treatments (six monthly)
10% off all other treatments undertaken during the year – potentially saving you hundreds of dollars.
---
To receive an electronic version of our registration form and direct debit forms, email us at hello@focus32.co.nz or give one of the team a call. 
Alternatively, you can download these by clicking below.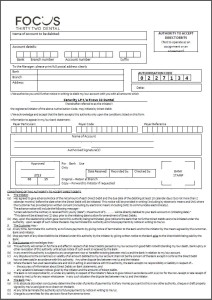 FOCUS 32 CARE PLAN HAMILTON: TERMS AND CONDITIONS
General
Your entitlements under the Hamilton Focus 32 dental plan cannot be transferred, gifted or sold to another person.
The minimum term for Focus 32 plan is 12 months. You may choose to pay your membership fee monthly, 6-monthly, or annually.
Missed Payments
You will be notified by email if any payment on your dental care plan has been missed.
If several payments are missed, we may suspend your membership until further notice. We are not responsible for your bank charges if payments fail.
If you are unable to keep paying, we are happy to discuss your options at any time.
Failure to pay may result in your account being passed onto a debt collection agency, and debt collection fees may be added to the amount you are required to pay.
Cancellation Policy
You may cancel your dental care plan within first month of the membership. If you have not claimed any benefit, there will be no cancellation charges and we will refund all payments in full.
After the first month of membership, cancellation during the term will be subject to a $50 administration fee and full payment of any benefit redeemed.
Renewal
You will be notified 14 days before your membership is automatically renewed. We will let you know once your membership has been renewed.